admin
August 9th, 2016
No Comments
Teachers, Students Industry: Participate in MFG Day!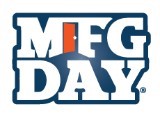 Check out this great event that is bringing industry and education a step closer together. It is called Manufacturing Day and it takes place each year on the first Friday in October –  October 7 in 2016. The event takes place all around the country, with schools and colleges opening up their doors to showcase their programs to industry, parents and peer schools, and industry companies opening their doors to students, parents and educational personnel.  You can host an event or you can attend an event (or more than one!)
Get all the details from the Manufacturing Day website where you can see the state by state listings of events as well as get an idea of the wealth of resources that the founders have put together for those wanting to host an event.
Whether you are a school or a business, think about inviting counselors, administrators and parents, to help them gain a clear understanding of what modern-day advanced manufacturing is all about and the job opportunities it affords. They will most likely be wowed!
Here is a snapshot of a few wood-related events:
Tours at this community college include the following departments: Wood Manufacturing Technology, Plastics/Composites, Machine Tool Technology, Welding, Engineering Design and New Product Development.
RB Tool & Mfg (Ohio) is offering a tour showcasing CNC machines and day-today manufacturing processes
They have participated for five years and hosted over 1,000 students—and they have hired several. "We seized the opportunity to change the perception of manufacturing for the students who visited, " says Scott Schaeper of RB Tool. "We show them that the field of manufacturing can provide unique, exciting and rewarding careers."
Mastercam (Connecticut)
Visitors will see their machine shop in action, testing Mastercam toolpaths, cutting parts and exploring the latest software features.
Architectural Woodwork Company (California)
This high-end millwork company is offering a tour of their 60,000 sq ft custom millwork shop and a mini-exhibit with vendors representing hardwood, engineered wood, veneer, panel processing, hardware, tooling, drafting and CAD. Learn about various processes and job descriptions.
Other wood products manufacturing hosts include Andersen Doors & Windows, Taylor Guitars, Kellex Seating and Paul Downs Custom Conference Tables.
American manufacturing is on the rise and is greatly in need of a next generation of workers in all areas. Go to www.MfgDay.com to learn all about it and find a way to participate!