EDUCATION NEWSFEED
AWFS Education April 2019: Update on WIRC; Check out CueCareer!
WIRC Embarks Upon Industry-Wide Marketing Campaign; AWFS Cue Career Resources and Virtual Career in the Classroom Event Read more…
AWFS Participates in U.S.-China CTE Summit
AWFS was invited to a summit on CTE hosted by the Department of Education Read more…
Watch the Webinar: Industry 4.0 and Digital Transformation
AWFS and CMTC hosted a webinar on Industry 4.0, you can watch the recording now Read more…
Fresh Wood Student Competition Call for Entries Open
AWFS to host 11th competition; new Special Theme category; Wagner Meters and KCD Software sponsor Read more…
WIRC to Spark Workforce Growth
Eleven wood industry associations are pleased to announce the formation of a coalition aimed primarily at perpetuating the long-term growth of the industry Read more…
Design it Digital Student Competition Winners Announced
AWFS announced the winners of its inaugural Design It Digital (DID) student CAD competition at the International Woodworking Fair (IWF) Atlanta on Aug 22 Read more…
Webinar: Host a MFG Day Event
Join us on Thursday, June 7, 2018 for a free 60 minute webinar on how to host a MFG Day Event! Read more…
AWFS Members Support SkillsUSA CA Student Woodworking Contests
Thank you to our sponsors, and congratulations to the student medalists! Read more…
AWFS Members Call on DC Legislators to Support CTE
Ten AWFS member company representatives participated in the DC fly-in, Feb 28, 2018…Read more…
Submit Proposals Now for the 2019 AWFS Fair Education Program
Educational Seminar topic/presentation proposals will be accepted through August 31, 2018. Read more…
Webinar: Implementing WCA in the Classroom
Watch the webinar, recorded March 13, about how to implement the Woodwork Career Alliance industry standards program in the classroom. Read more…
Apprenticeship Updates
You may be seeing a lot of news and information about apprenticeships. Legislators, industry and education are recognizing how critical apprenticeships are to strengthening our skilled workforce. Read on for some recent developments…
Your voice needed NOW on apprenticeship
The PARTNERS Act of 2017 is a bipartisan bill that would support partnerships between business and local workforce stakeholders that enable employers to develop and expand apprenticeships and work-based learning programs. Read more…
AWFS Member Companies Participating in 2017 MFG Day
Now is the time for you and your company to get involved in MFG Day, you can host an "open house"; offer tours of your facility read more…
AWFS Supports CTE on Multiple Fronts
AWFS participates in NAM Manufacturing Summit with CTE-focused Hill Visits; AWFS Fair education-focused features promote networking; WoodIndustryEd.org gets a "face-lift" read more…
Students from Schools New to Fresh Wood Take Home Contest's Top Honors
Cody Campanie, a student at Seattle Central College won The Best of Show Award, in the 2017 AWFS® Fresh Wood Competition after judges reviewed the projects of 41 finalists read more…
AWFS Fair 2017 Webinar for Educators – watch the recording
AWFS hosted a Webinar for educators on attending the 2017 AWFS Fair including how to register, show features and activities, and Teacher Track educational seminars. To watch the recording here and view the Power Point presentation read more…
Woodworking Industry Rallies to Support 2017 SkillsUSA California Contests
Multiple AWFS member and industry companies generously donated nearly $10,000 in supplies, tools, and giveaways for students at the 2017 SkillsUSA California State Cabinetmaking and Introductory Woodworking contest Championships, held Saturday, April 22…read more…
Education Bites
AWFS Education Committee Chair attends formal dinner with legislative representative; a quick way for you to have a voice in education development support.  Read more…
Calling all Southern California Woodworking Industry Professionals!
Would you like to participate in a group that supports local woodworking schools, students and teachers?  Read more…
Southern California Millwork Company Hosts Manufacturing Day Event
Approximately 150 local area high school students and teachers attended the Manufacturing Day event hosted at Architectural Woodworking Company (AWC) near Los Angeles (CA) on Friday, October 7.  Read more…
ASFD Scholarship Call for Applications
Calling all students of furniture! Here is a great scholarship opportunity from the American Society of Furniture Designers (ASFD).  Read more…
Teachers, Students, Industry: Participate in MFG Day
Check out this great event that is bringing industry and education a step closer together. It is called Manufacturing Day and it takes place each year on the first Friday in October –  October 7 in 2016.  Read more…
Meet your Next Generation of Skilled Workers: Middle Schoolers
Educators are now saying that for many students and their parents, high school age is too late to introduce them to technical careers. If you want today's kids to consider jobs in the skilled trades, they need to be exposed in middle school. Read more…
Wood Industry 40 under 40 an inspiration to us all
An executive at a hardwood company nominated a rising young manager at a competing lumber firm. An ex-Marine with training in Six Sigma launched a woodworking firm to create career paths for fellow vets. Read more…
Profiles of Wood Industry 40 under 40 Class of 2016
The 2016 Wood Industry 40 Under 40 sought the next generation of people destined to make an impact on the wood products manufacturing industry in North America. From more than 135 nominations, 40 outstanding individuals were identified. Read more…
Wood Industry 40 under 40: Dynamic Leaders take Charge
The list finds movers and shakers already making their mark in all walks of wood products manufacture, as well as suppliers and educators. Read more…
AWFS® EDUCATION INITIATIVES
AWFS is committed to education efforts that support, inform and benefit members and their customers. Following are our education initiatives (click on any header for additional information):
WATCH THE FREE AWFS Webinar:
"Join the Movement – Host a MFG Day Event!"
Looking for a way to attract skilled workers? Would you like to connect students interested in woodworking-related careers? Have you considered hosting a company tour or open house? 64% of students who attend a company tour or open house are "more motivated to pursue a career in manufacturing"!
MFG Day – a national campaign to increase student awareness of manufacturing careers – provides resources to help you plan your company event.
AWFS hosted a webinar in June 2018 about how to get involved in MFG Day. In this webinar we: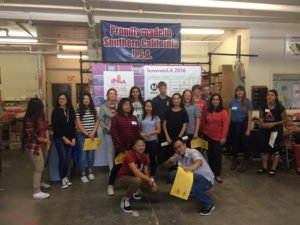 1. Learn about the skills gap and MFG Day
2. Walk through the steps in setting up a MFG Day tour/event
3. Explore resources available on the MFG Day website
4. Hear from four wood industry companies who have hosted MFG Day events
Find other resources about MFG Day here: http://www.woodindustryed.org/mfg-day-resources/
Questions: contact AWFS Education Director Adria Salvatore adria@awfs.org or (323) 215-0311
---
AWFS Fair 2017 "Education Town Hall" Presentation Features 13 Post-Secondary Woodworking Programs Across the U.S.
You can see and download the presentation here (PDF). For more information, contact Adria at adria@awfs.org or (323) 215-0311
---
"Meet the New Face of Manufacturing" Campaign posters available now!
"Meet the New Face of Manufacturing" is a comprehensive marketing effort to acquaint and interest young people in careers in wood products manufacturing. We want to convey the reality of 21st century manufacturing – it is modern, high-tech, offers varied and challenging careers and is ready to welcome the next generational workforce. The campaign launched in Fall 2014 with a poster showcasing five "New Faces" of manufacturing and in September 2015, an updated
poster image was unveiled with more "New Faces", highlighting the variety of personalities and lifestyles available for those seeking careers in wood products manufacturing.
For a FREE copy of the "New Faces" poster, which contain a QR code linking to this
page of resources, send a request to adria@awfs.org (include your name, mailing address, and quantity).  Please share this with career counselors, parents, school administrators and others who guide students in career choices.
Watch the "Meet the New Face of Manufacturing" Videos
…and learn about eleven outstanding young professionals in the wood products manufacturing industry!
Meet the New Faces of Manufacturing!
Spotlight: Adam K, furniture project manager
Spotlight: Thomas T, machinery sales representative
Spotlight: Jess B, product and furniture designer
---
---
The College of Woodworking Knowledge (CWWK) is a multi-day education program conducted at the biennial AWFS Fair, which takes place in July of the odd-numbered years in Las Vegas.  It consists of approximately 40 seminars, workshops and technical demonstrations on diverse topics aimed at enriching the attendee experience. The program includes the "Teacher Track" seminars designed specifically for wood technology educators. Teachers and students receive free show floor entry and special rates on seminars. There are featured events especially for teachers and students. The 2019 AWFS Fair CWWK Program will be published in Spring 2019!

Held at the AWFS®Fair, the Fresh Wood competition is open to high school and post-secondary students in woodworking programs.  It brings the best of North America's school programs and student talent to the attention of the industry.

This is a resource web site developed by AWFS, consisting of education and training information for the wood manufacturing and related industries (including bedding, flooring, hardware, solid surface, upholstery and other). Appropriate for educators, students, industry professionals and those seeking career and skill enhancement information, it contains a searchable database of schools, colleges, technical centers and companies that offer a wealth of education and skill enhancement programs – from short courses to graduate degrees, from hand-crafted to high tech. There are also listings of scholarships, awards and competitions; trade organizations and events; as well as job listing links and a blog.
Access industry-based glossaries, handouts and a "Careers" PowerPoint presentation specifically created for the classroom.
Find helpful guidelines for creating an internship program in your company or inviting an educator to spend a week with you to develop lessons for the classroom. There are also guidelines for hosting school tours and presenting in the classroom.
AWFS Affiliations

The Woodwork Career Alliance is a not-for profit industry trade organization responsible for the development of the Woodwork Manufacturing Skill Standards. The standards focus on the set up, safety, proper use and processes of the most common tools and machines used in the industry. WCA's Passport Certification Program assesses individuals on the various skills towards earning stamps for their Passport booklet. The skill standards, assessments and passport are appropriate for students as well as industry professionals. The Sawblade Certificate is especailly geared to high school students. Teachers and industry representatives can be trained as skill evaluators to conduct assessments. The WCA offers an EDUcational membership, comparable to the former WoodLINKS USA which ceased operation in 2013, as well as an INDustry membership. AWFS is a Silver sponsor of the Woodwork Career Alliance. The WCA conducts a skill training at the biennial AWFS Fair.

SkillsUSA (formerly known as VICA) is a national nonprofit organization serving high school and college students preparing for careers in trade, technical and skilled service occupations. It consists of more than 400,000 student and instructor members, with 1,700 students in Cabinetmaking or Woodworking programs –this is the future of our industry in training! AWFS has assisted with SkillsUSA CA regional and state woodworking contests since 2011 and hosted the 2011 and 2013 SkillsUSA World Team Cabinetmaking Qualifying Event at the AWFS Fair. Click here to see more about AWFS' involvement with SkillsUSA.
Would you like to help support industry education? Contact AWFS Education to find out how at (323) 838-9440 or e-mail Adria Salvatore or Adam Kessler